A new website for the International Network Toward Alternatives and Recovery is nurturing the exchange and growth of healing practices from around the world
The International Network Toward Alternatives and Recovery (INTAR) is a real and virtual meeting place for those working to "change the paradigm of psychiatry to one of rights-based socially inclusive approaches to mental health services provision at the community level."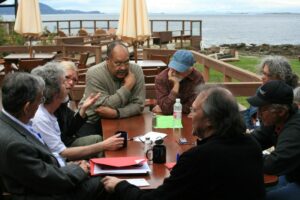 Since its first three-day gathering in Massachusetts in 2004, INTAR has hosted international conferences in Ireland, British Columbia, Toronto, New York, Liverpool, and most recently in Lavasa, India.
Conference participants have contributed to the creation of Open Dialogue UK, Parachute NYC, peer-run respite houses, MadInAmerica.com, the Foundation for Excellence in Mental Health Care and other innovative, social change organizations and services.
"INTAR brings together the best people and ideas from around the world with practical, real-world, humane approaches for people diagnosed with serious mental illness," says Jim Gottstein, author of Zyprexa Papers.
With the help of a microgrant from Open Excellence, INTAR members recently launched a new website that is effectively convening change agents around the globe at panel dialogues and will soon offer learning institutes and practice exchanges on rights-based approaches and context adaptation of good practices in mental health.
Already this year, INTAR has hosted or co-hosted two global dialogues. The first was held in Berlin, Germany with translation services as a global dialogue on: 'Why are there so few rights based institutions and alternatives to psychiatry in Germany? What does it take to change this?'
The second was co-hosted with the Human Rights Centre, University of Essex and it was the final Handover Dialogue from the outgoing UN Special Rapporteur on the Right to Health to the incoming Rapporteur: 'Preparing communities for the future: rights based approaches'.
Stay tuned for a series of dialogues that will continue regardless of COVID restrictions, with global participation online. Those dialogues will subsequently be offered on the INTAR website in the form of learning institutes with a collection of the recordings, written materials and evaluations.
About INTAR
The International Network Toward Alternatives and Recovery is an established global network with representation at the grass roots practice level, across a multi perspective value system comprising persons with psychosocial disabilities, survivors, peers, community development workers, radical mental health professionals, family members and academics.
Constituted as an organization through the governance of the Healthy Living Centre at Dublin City University, it is positioned to make a significant contribution to reframing, articulating and shifting the traditional psychiatric paradigm.
---
Grants like this one are made possible by Open Excellence donors like you. Become a monthly sustaining donor today to support the revolution in mental health care.