A new website for the International Network Toward Alternatives and Recovery will nurture the exchange and growth of healing practices from around the world
The International Network Toward Alternatives and Recovery (INTAR) is a real and virtual meeting place for those working to "change the paradigm of psychiatry to one of rights-based socially inclusive approaches to mental health services provision at the community level."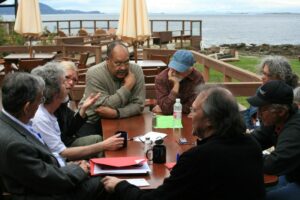 Since its first three-day gathering in Massachusetts in 2004, INTAR has hosted international conferences in Ireland, British Columbia, Toronto, New York, Liverpool, and most recently in Lavasa, India.
Conference participants have contributed to the creation of Open Dialogue UK, Parachute NYC, peer-run respite houses, MadInAmerica.com, the Foundation for Excellence in Mental Health Care and other innovative, social change organizations and services.
"INTAR brings together the best people and ideas from around the world with practical, real-world, humane approaches for people diagnosed with serious mental illness," says Jim Gottstein, author of Zyprexa Papers.
With the help of a microgrant from Open Excellence, INTAR members will collaborate on the development of its new website that will effectively connect change agents around the globe to panel dialogues, learning institutes and practice exchanges on rights-based approaches and context adaptation of good practices in mental health.
Small grants with a big impact
Thanks to the commitment and generosity of our donors, Open Excellence has been able to award several competitive microgrants targeting our five priority areas for 2021: COVID-19 relief to providers of peer or voluntary mental health services; decolonizing, racism and inequality in mental health diagnosis and care; industry influence in mental health; the social determinants of mental health; and advocacy and human rights. Though small, these grants support critical infrastructure at peer service organizations, document and share innovations in care and support early career and peer researchers. (Grant applications are currently accepted by invitation only.)
About INTAR
The International Network Toward Alternatives and Recovery is an established global network with representation at the grass roots practice level, across a multi perspective value system comprising persons with psychosocial disabilities, survivors, peers, community development workers, radical mental health professionals, family members and academics.
Constituted as an organization through the governance of the Healthy Living Centre at Dublin City University, it is positioned to make a significant contribution to reframing, articulating and shifting the traditional psychiatric paradigm.
---
Grants like this one are made possible by donors of Open Excellence (the Foundation for Excellence in Mental Health Care) like you. Become a monthly sustaining donor today to support the revolution in mental health care.