Hearing Voices peer-support groups are transforming the lives of people all over the world, enabling them to understand and cope with experiences that have long confused and frightened them. Many have spent years in the psychiatric system yet continue to struggle with extreme states or anomalous thoughts, perceptions, or feelings. Often labeled "chronic" or "treatment-resistant" patients, they can become increasingly isolated from others and estranged from themselves.
Hearing Voices groups offer a crucial alternative, allowing the transformational power of relationship to foster a deeper understanding of mental life, both in themselves and in other people.
By creating a non-judgmental and non-hierarchical space for members to share experiences and learn from one another's coping strategies, these groups can enable radical change, even among people who have been distressed for many years.
Some stop hearing voices entirely, once they understand the symbolic significance the voices have been serving (e.g., preserving a memory of trauma that has yet to be worked through). Others learn to accept and "live with voices" in ways that allow them to regain more control over their lives.
The United States unfortunately lags far behind other countries in adopting this inspiring alternative, so as part of our larger training and research project designed to foster the development of the Hearing Voices approach in the US (supported by a major grant from the Foundation for Excellence in Mental Health Care), we have created a short film documenting the power of hearing voices groups. In BEYOND POSSIBLE: HOW THE HEARING VOICES APPROACH TRANSFORMS LIVES, a diverse selection of voice hearers from around the country describe their experiences in these peer-support groups, and the many ways their lives have changed as a result.
The film unites and uplifts the voices of experiencers from diverse cultural, spiritual, and socio-economic backgrounds and envisions ways to make the Hearing Voices approach more accessible and relevant.
The creative team behind the film includes voice hearers, researchers, and other advocates for a broader range of options for people diagnosed with psychosis, and it is the first film to focus on the distinctive nature and effectiveness of these groups.
Over the next few years, our research team will also be publishing a series of articles based on our national study of Hearing Voices groups (the largest and most in-depth investigation yet to be conducted, and the first in the US), with the goal of identifying the precise mechanisms by which these groups work. We see the film as another form of dissemination, a way of reaching a broader audience than articles in scientific journals are often able to do.
We deliberately made the film only 22 minutes long so that it could include a variety of voices yet still leave plenty of time after a screening for discussion. Our goal is to challenge taken-for-granted attitudes about mental health, and we hope the film will be shown in a very wide range of contexts – public libraries, community centers, high school and college classrooms, peer support organizations, clinical staff meetings, mental health conferences, etc. – to foster lively dialogue about one of the most inspiring approaches to be developed in the world of mental health in many years.
I have spent the last 15 years studying, writing and lecturing about the Hearing Voices approach, in the UK and Europe where it is much better known and widely accepted, and here in the US, where we are working every day to get the word out to more people about this important alternative.
Every week for more than five years, I co-facilitated one of the first Hearing Voices groups in this country – in Holyoke, Massachusetts – and I am privileged to have served as Director of the Hearing Voices Research and Development Project since its inception.
In decades of research and teaching both in psychology and the history of psychiatry, I have never encountered an approach as transformative and as cogently theorized as the Hearing Voices approach, which is why I thought it was so important for our project to make this film.
We are very excited finally to be able to share it with a wide range of audiences – mental health professionals, family members, interested members of the general public, and of course voice hearers themselves – and look forward to joining many of them for panel discussions and public presentations.
Anyone interested in organizing such an event can reach out directly to Caroline Mazel-Carlton at caroline@westernmassrlc.org to arrange for panelists from the film to participate in person or via videoconference.
---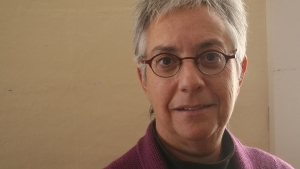 Gail A. Hornstein is advisor to the Hearing Voices Research and Development Fund at the Foundation for Excellence in Mental Health Care.
She is Professor Emerita of Psychology at Mount Holyoke College, where she has been a member of the psychology faculty since 1978. She received her BS from the University of Pittsburgh in 1972, her PhD from Clark University in 1981, and a Postdoctoral Fellowship in Personality and Social Structure from the University of California, Berkeley in 1981-82.
Since the 1990s, Hornstein's research has concentrated on 20th-century psychology, psychiatry, and psychoanalysis, supported by grants and fellowships from the National Library of Medicine, the National Science Foundation, the National Endowment for the Humanities, the American Council of Learned Societies, the American Philosophical Society, and the Marion and Jasper Whiting Foundation, among other sources.
She has been a visiting research fellow in the History of Science Department, Harvard University; the Bunting Institute, Radcliffe College; Clare Hall, Cambridge University; Magdalen College, Oxford University; the School of Advanced Study, University of London; the Centre for Research in the Arts, Social Sciences, and Humanities, Cambridge University; the Birkbeck Institute for Social Research, University of London; and the School of Advanced Study, Durham University. In 2011, she was awarded the Meribeth E. Cameron Faculty Award for Scholarship at Mount Holyoke College, and in 2014 she received the Ally Award of the Western Massachusetts Peer Network.
Hornstein's articles, interviews, and opinion pieces have appeared in many scholarly and popular publications, and she is the author of two books: the widely-reviewed biography, To Redeem One Person is to Redeem the World: The Life of Frieda Fromm-Reichmann, and Agnes's Jacket: A Psychologist's Search for the Meanings of Madness, which documents the history, operation, and effectiveness of the Hearing Voices Network, among other peer-led initiatives, about which she has lectured across the US, UK, and Europe.  Her Bibliography of First-Person Narratives of Madness in English (now in its 5th edition) lists more than 1,000 titles and is used by researchers, clinicians, and educators around the world.  Hornstein founded and co-facilitated one of the first hearing voices peer-support groups in the US (in Holyoke, MA) and she has trained dozens of facilitators across the Northeast.  For further information, see www.gailhornstein.com.