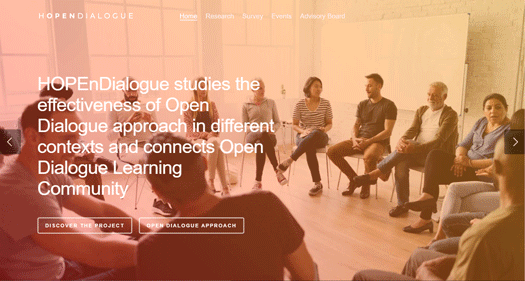 The HOPEnDialogue project website is now live!
HOPEnDialogue has been designed to connect the Open Dialogue research projects emerging worldwide. In February 2019, the Foundation for Excellence in Mental Health Care awarded a research grant to the Italian National Research Council that allowed HOPEnDialogue to start. HOPEnDialogue has two purposes. First, it investigates the effectiveness of Open Dialogue in different contexts. Second, it aims to connect and support the Open Dialogue Learning Community in centers that adopt Open Dialogue with fidelity.
Check out the project website, take the survey, and register now for the 3rd Meeting of the International Open Dialogue Research Collaboration conference on the 4th and 5th of May in Rome.
More details about the conference and the next Advisory Board meeting in May will come soon.