Intentional Peer Support is more than a framework for better mental health care, it's about creating the world we want to live in together, one relationship, one organization at a time.
"As peer support in mental health proliferates, we must be mindful of our intention: social change. It is not about developing more effective services, but rather about creating dialogues that have influence on all of our understandings, conversations, and relationships."

– Shery Mead, Founder of IPS
'Intentional Peer Support, known as IPS, is a relational framework developed in the 1990s by Shery Mead and others who were active in the mental health consumer/survivor/x-patient movement. It has evolved over the years while engaging many people in the work of transformative, mutually responsible relationships. This framework is generally evoked when someone may be experiencing intense emotions or psychological distress, yet it proves useful in many situations and relationships.
IPS is used across the world in community, peer support, and human services settings, and is a tool for community development with broad appeal to people from all walks of life.'1
From its founding in New England, there are now active IPS training hubs in locations around the world, one of the newest at FolkTime in Portland, Oregon. Soon after the first Covid lockdown in 2020, FolkTime gave us this poster showing how IPS can be applied to the challenges and uncertainties we all navigate in these extraordinary times: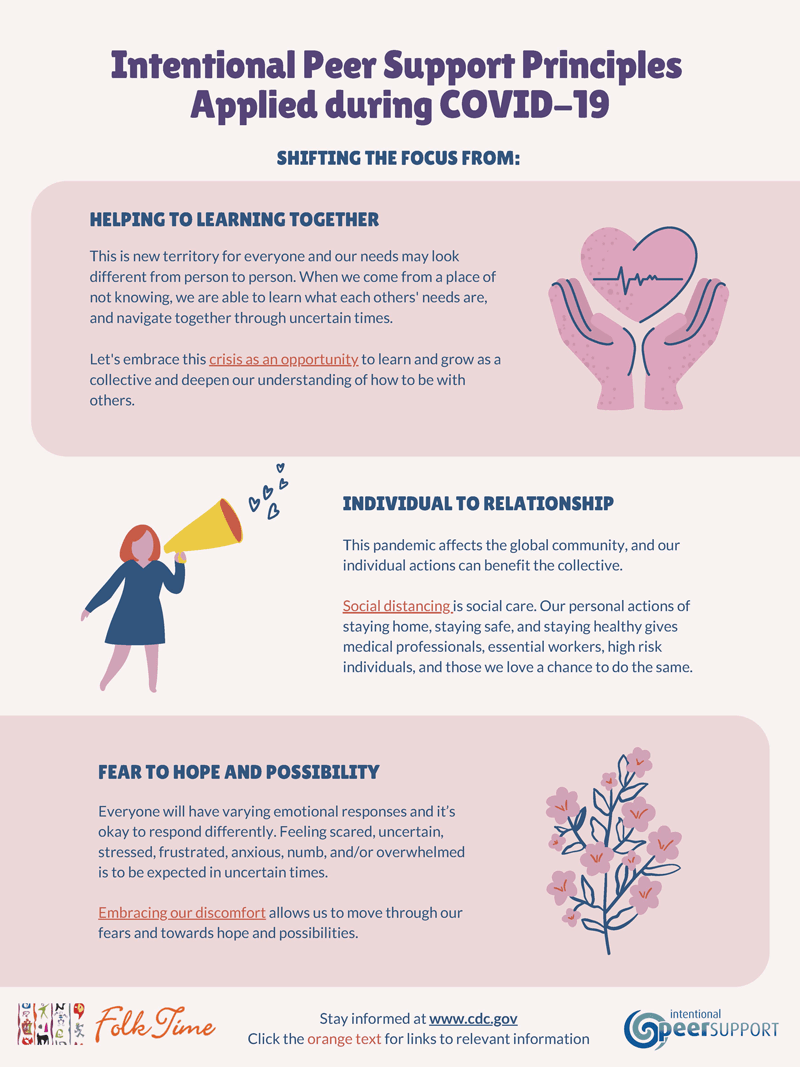 Maintaining the launch pad
Intentional Peer Support headquarters has been hit hard by the Covid crisis and the loss of its traditional work providing in-person trainings during this time. A microgrant from Open Excellence is providing critical assistance to convert curricula, equip staff to conduct online trainings and preserve this critical infrastructure.
Small grants with a big impact
Thanks to the commitment and generosity of our donors, Open Excellence has been able to award several competitive microgrants targeting our five priority areas for 2021: COVID-19 relief to providers of peer or voluntary mental health services; decolonizing, racism and inequality in mental health diagnosis and care; industry influence in mental health; the social determinants of mental health; and advocacy and human rights. Though small, these grants support critical infrastructure at peer service organizations, document and share innovations in care and support early career and peer researchers. (Grant applications are currently accepted by invitation only.)
About IPS
Why IPS? Peers come together around shared experiences and often a desire to change lives. But without a new framework to build upon, people frequently re-enact "help" based on what was done to them. IPS offers a foundation for doing something different. We come from a history of grassroots alternatives that focus on building relationships that are mutual, explorative, and conscious of power. Learn more
---
Grants like this one are made possible by donors of Open Excellence (the Foundation for Excellence in Mental Health Care) like you. Become a monthly sustaining donor today to support the revolution in mental health care.