Bringing together national Black, Indigenous, People of Color (BIPOC ) Peers, Activists, Advocates, Leadership and Allies in the United States
We want to uplift our voices to change the conditions in our community and the world.
We are up against so much hate and fear in our society today. As Stevie Wonder says in his song, "Love is in need of Love today."
You can make a difference now by supporting Surviving Race to host our upcoming dialogue and retreat in Savannah, Georgia in 2022. This retreat will focus on strategies to combat racism, sexism, disability in support of human rights. Every donation counts!
---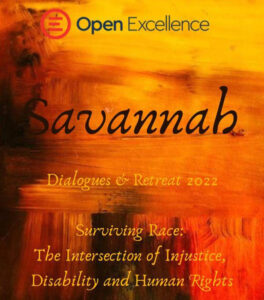 Surviving Race: The Intersection of Disability, Injustice and Human Rights is a coalition comprised of people of color speaking to police brutality, white privilege, Disability, race, LGBTQI2SA, human rights, psychiatry, antipsychiatry and we are mental health advocates and survivors. Surviving Race supports the voices of people with disabilities and protects our communities from mentalism, racism, sexism, homophobia, transphobia, xenophobia, antisemitism and islamophobia.
Our Surviving Race Community Care Peer Support Network, in response to COVID-19, trains volunteers and offers live and on-demand peer resources. We have provided over 134 point-of-contact meetings with 15,000 minutes of direct virtual programming since March 19, 2020.
We aim to develop mentor programs to support BIPOC in leadership positions in Social Justice, Legislative work, African American History & Study, Intentional Art & Design, Peer Support programs, Social & Community Inclusion, Academic Study in Women, Cultural & Gender Study, Community Peace Keeping, Mad Studies and Policy Studies.
We also want to re-imagine our movement which includes white activists who are already in the movement and new young white activists with intersections of BIPOC, psychiatric survivors, certified peer specialists, LGBTQIA community, mental health advocates and professionals, people with disabilities. Surviving Race believes working with intersections to understand race, disability and human rights can change the world and our movement.
Thank you,
Celia Brown, Co-Founder & Jen Padron, Organizer, Dialogues/Retreat Savannah 2022
Surviving Race: The Intersection on Injustice, Disability and Human Rights
P.S. Sign up to receive registration and other Dialogues & Retreat 2022 information.
Please contact Surviving Race to get involved in the planning by emailing survivingrace2014@gmail.com.