The first in a new series An Affirming Flame: Veterans' Journeys from Trauma to Healing
In his 2005 book, War and the Soul: Healing Our Nation's Veterans from Post-Traumatic Stress Disorder, Edward Tick, PhD, calls for a new approach to addressing PTSD among veterans. Rather than seeing PTSD as simply a stress disorder, he argues that it is "best understood as an identity disorder and soul wound."
He recounts one Vietnam veteran coming to his office and describing the idea of soul wound like this: "You can feel the connection between your body and your soul when it starts to break. It's like a thread that starts fraying." The veteran continues, "I tried so hard during those long nights, the earth shuddering, my hands over my ears. I concentrated to keep that thread from snapping. But I could feel it getting thinner and thinner."
Tick states that, universally, there has always been what he calls a "warrior class," and that for centuries and in myriad, disparate cultures, warriors were supported by their communities through rituals, both before they went to war and after they returned. War itself was considered a kind of rite of passage for the warrior, and the rituals before and after validated their sacrifice.
But with the advancement of war technology, there has been an exponential increase in destruction not only in the physical realm, but in the soul realm. The above-mentioned Vietnam veteran who talks about his soul breaking away from his body stated that in the particular battle he was speaking of, 750,000 tons of bombs were dropped in a period of nine weeks. "Day and night. Night and day," he says. "Air strikes. Heavy bombers. Fighter jets. Heavy and light artillery. I can still feel the earth shaking."
Those who were once referred to and seen as warriors have been denigrated to mere veterans who, without the ceremony once offered them, have experienced a kind of psychospiritual death. War and the Soul seeks to use a holistic approach through ancient traditions and mythology to bring rebirth to veterans experiencing PTSD – raising them up, like the phoenix, from the ashes of destruction.
While some see war as a necessary practice of "an eye for an eye," Tick subverts the notion of "an eye for an eye" by stressing not punishment or revenge, but instead the practice of "returning what we've taken and exchanging understanding and forgiveness."
How can warriors and those supporting them practice acknowledgment of the things that have been taken in times of war and exchange those experiences with understanding and forgiveness? This blog, named after a line from W.H. Auden's anti-war poem, "September 1, 1939," will explore how veterans of war—warriors—can experience a sense of rebirth through the support of their communities, traditions, and professional care providers. The reflections of veterans and their supporters are welcome to be a part of this journey.
---
Eli Addison, QMHA, is an individual continually seeking to better understand the human experience and explore our diversity. He serves as Veterans Housing Specialist at Medicine Wheel Recovery Services. His passion and careful persistence drive his advocacy and support for those in need.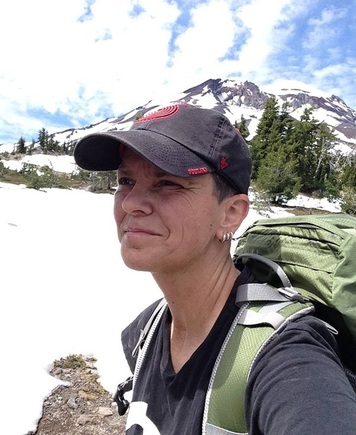 Eliza Galaher, QMHA, has lived all over the country, especially the Northeast and the Southwest, working in publishing, education, liberal religious ministry, and many others. She is back in her native Oregon, serving as a Veterans Housing Specialist at Medicine Wheel. Addiction and recovery have always been a part of her life and she now offers her lived experience in service to all seeking healing.