Kickoff of the New Open Dialogue International Research Collaborative: Hopes for HOPEnDialogue
On July 2 and 3, 2019, I was privileged to attend the first meeting of the HOPEnDialogue International Research Collaborative in Rome.  I attended as a representative of the Board of the Foundation for Excellence in Mental Health Care, along with the Foundation's President and CEO, Gina Nikkel, and the Foundation's new Chief Philanthropy Officer, Kevin Aspegren.
The meeting was hosted by the leaders of the project, Raffaella Pocobello and Giuseppe Salamina, and brought together forty representatives from 12 countries, first in an open forum to discuss the goals and overarching strategy of the project, and a second day for the 20 international members of the Advisory Council to address more focused challenges, such as site selection requirements; inclusion/exclusion criteria; training; fidelity; and outcomes.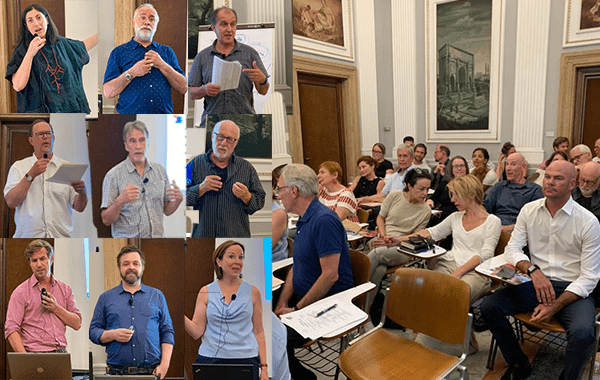 The meeting was enriched by the presence and active participation of the patriarch of Open Dialogue, Jaakko Seikkula; research and organizational change expert, Doug Ziedonis; master trainers such as Mary Olson and Nick Putnam; the leaders of the ODDESSI project in the UK, Russel Razzaque and Steven Pilling, the largest and most ambitious RTC trial of Open Dialogue to date; and others with substantial experience in adapting Open Dialogue in other settings and cultures.
Service users' voice was represented by a profoundly powerful remote presentation by Andrea Zwicknagl, whom illness prevented from being there in person.  There was a general sense that, moving forward, greater representation from Peers would enrich the project.
The HOPEnDialogue International Research Collaborative represents an ambitious attempt to build on the sophisticated research structure of the ODDESSI project and apply similar fidelity and outcome measures to Open Dialogue adaptations in outpatient, community-based practices around the world.
Like the ODDESSI project, it is anticipated that the HOPEnDialogue project will examine outcomes of using Open Dialogue practices to provide care to people experiencing substantial psychiatric/psychological crisis – but not confine itself to working with young people with early episode psychosis.
This shift from concentrating on early psychosis represents an important change from the early and much celebrated literature on outcomes in Open Dialogue, in which much better psychosocial outcomes (much greater percentages of young people working or in school and fewer on disability) at five years, using substantially less antipsychotic medication.
To me, it's regrettable that these remarkable results have not been replicated outside of the system of Northern Lapland in Finland, and I personally feel some sense of loss of opportunity with this shift in emphasis.
However, this shift does represent in some ways a return to the roots of Open Dialogue in Finland, as it began as a method of crisis intervention for people experiencing psychiatric crisis, not necessarily psychosis.
As a psychiatrist who has been engaged in and committed to crisis intervention psychiatry for many years, I believe that the Open Dialogue model is ideally suited to Crisis Intervention, and will very likely result in better protection of and rapid return to valued social roles; decrease chronification; promote true informed consent and shared treatment planning and decision making; and lead to greater service user empowerment and satisfaction.  It is definitely the model of care I'd want for myself or a loved one.
The HOPEnDialogue project is enormously exciting, but faces great challenges: how will eligible programs be selected for study; how will fidelity to Open Dialogue be measured and monitored; what inclusion/exclusion criteria will be used; what outcome measures will be used? And many more vexing questions await.
It is tremendously reassuring to know that the project is in such capable hands as Raffaella's and Giuseppe's, and that such a tremendously experienced team as was gathered in Rome stands together to marshal the project forward. Hats off to the Foundation for Excellence in Mental Health Care for being the spark and conduit for such a profoundly important undertaking!
---
Dr. Christopher Gordon is an Associate Professor of Psychiatry, Part-time, at Harvard Medical School, and a Psychiatrist at Massachusetts General Hospital, where he teaches principles of collaborative formulation, about which he has published and lectured extensively. Dr. Gordon also has a small private and consulting practice in Wayland, Massachusetts,  with a special interest in dialogical practices. He is certified by the American Board of Psychiatry and Neurology. Dr. Gordon is a Distinguished Life Fellow of the American Psychiatric Association.   In 2012, Dr. Gordon was named the Psychiatrist of the Year by NAMI Massachusetts.  In 2007, he received the Distinguished Service Award from the Commissioner of the Department of Mental Health. In 2008, he received the Edward Messner Award for outstanding teaching of residents at MGH and McLean Hospitals.   Dr. Gordon is a certified practitioner of Open Dialogue, progressive practice developed in Finland for the management of psychiatric crisis, and is a founder and clinical leader of the Collaborative Pathway at Advocates, Inc, the first US-based adaptation of Open Dialogue.  He is married to Julie Gordon, and they have two sons, Morgan and Noah.